Classroom Observation Service
Before we get started…  

☑ Do you need to engage in teaching activities?
☑ Are you a first time teacher?
☑ Have you ever encountered problems in teaching and wish to adjust your course design through classroom observation?

If your answer is "Yes", congratulations. You have found the service for you.
In order to promote observational learning and peer exchanges among teachers, each semester the Center invites teachers with different teaching styles to open up their classroom for peer observation. New teachers and teachers who wish to adjust their teaching methods can apply for the service (2021 Spring Semester application is open to NTU staff who are interested in teaching).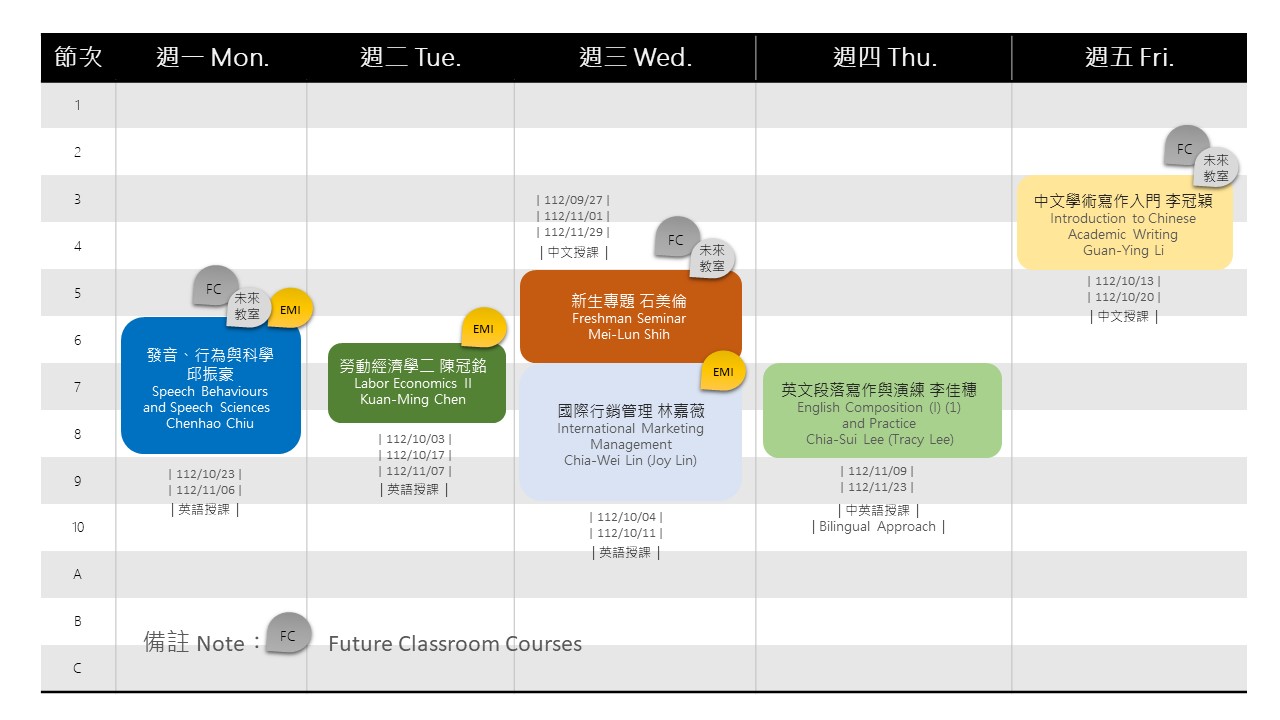 What is Classroom Observation Service?
Based on the spirit of teaching observation, on-site information on teaching practices are systematically collected. The observation is a one-way learning approach where the observer enters the teaching site to observe teaching practices. It helps observers develop their instructional techniques, reflect on their own teaching philosophy, and improve the quality of their courses. "Sharing", "Mutual Assistance", and "Learning" are the core spirits of CTLD's Classroom Observation Service.
Features of Open Classrooms
The Center invites enthusiastic teachers who have different teaching styles, or adopt innovative teaching methods and incorporate digital technology into their teaching, to open up some of their classrooms for other teachers to observe. With student learning as focus, teachers are invited to share the goals of their courses. In addition, the teachers will also share the features of their teaching approach. Course Information and Schedule:

NTU Classroom Observation Service-Campus Treasure Map.

。
National Taiwan University System Classroom Observation Service
The National Taiwan University System includes National Taiwan University, National Taiwan Normal University, and National Taiwan University of Science and Technology. The Center provides a joint classroom observation service for the three universities. The peer observation and feedback mechanism has become a trend in the National Taiwan Normal University. Starting from 2020 Spring Semester, teachers from the National Taiwan University System have been visiting National Taiwan Normal University for classroom observation. NTU has also invited National Taiwan University of Science and Technology to open up its feature courses for teachers from the National Taiwan University System to observe. In response to the trend of online teaching, many courses have been designed as online courses, such as "Flipped Classroom" or "Synchronized and Asynchronous Online Courses". These courses are also open to classroom observation, and teachers may apply to observe online.
National Taiwan Normal University Center for Teaching and Learning Development:Center's official website   /   Registration System  /   Classroom Observation Timetable  /   Course Schedule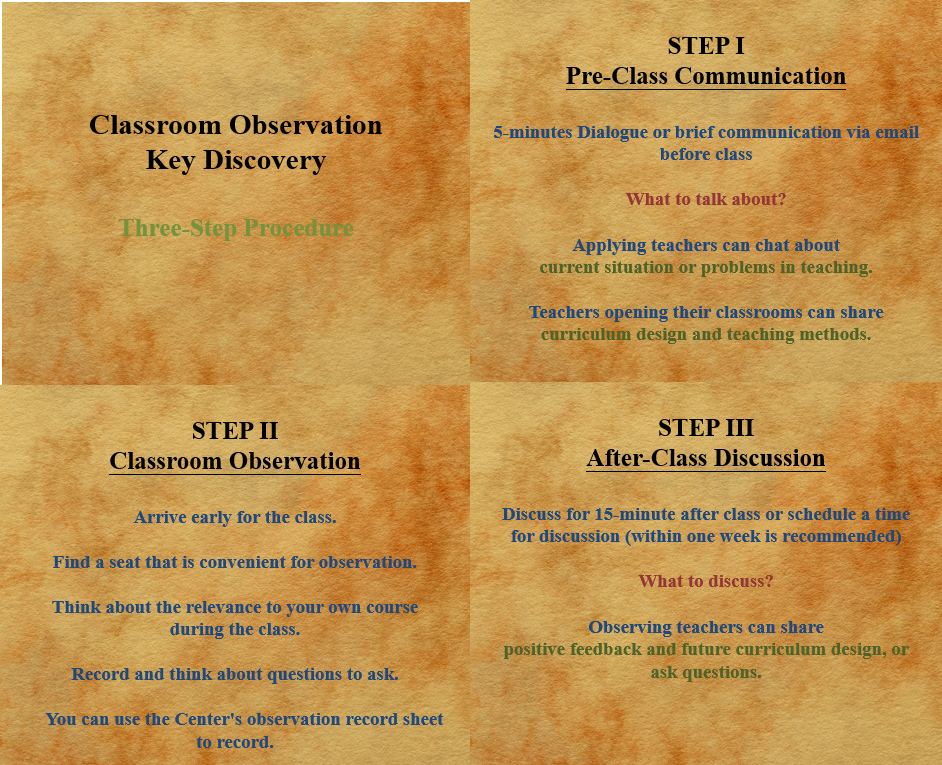 Although the intention of classroom observations in higher education is quite different from the classroom observations in education prior to university, the classroom observation approach remains similar. In both levels of observation, teachers enter a classroom to observe and record the learning situation of students, and share and discuss their classroom observation experience. The teachers then adjust their own teaching model in the hope that their teaching activities can help students learn better.
In fact, a good teaching observation requires communication before and after class. When inviting teachers to open up their classrooms for observation, the Center shares the importance of a complete classroom observation process, which mainly includes pre-class communication, entering the classroom for observation, and after-class discussion. The Center recommends advance email communication or a 5-minutes dialogue before the classroom observation. Teachers opening their classrooms can briefly share their lesson plans and teaching methods for the current week, and arrange for 10-15 minutes of sharing and Q&A after class.
The Center has also designed a "Classroom Observation Record Sheet"(PDF download link) for teachers who apply for classroom observation. Teachers may use this form for recording their in-class observations to facilitate after-class review and reflection. (Handwriting is recommended to avoid interrupting the class. You can request an editable file of the form when apply.)
The core spirits of the Classroom Observation Service are "Sharing", "Mutual Assistance" and "Learning", so according to the willingness of teachers who open up their classrooms, any positive and constructive suggestion may be shared with the them.
Application and Administrative Instructions for Classroom Observation Service
Application Schedule|
Application schedule will be announced at the beginning of each semester. Matching will be conducted regularly by staff from the Center. After successful matching, notifications will be sent to both the applying teachers and class teachers. If applicants have not received a notification letter within five working days of the online application, please send a letter to the staff at the Center to verify the application status. Since the matching takes about three working days to process, please apply five days in advance. Applications to observe classes within three days will not be accepted.
Applicability|Applications are mainly open to teachers of the National Taiwan University System and NTU staff. Some courses may have applicant restrictions.
Feedback Survey|
The Center hopes to improve the content and quality of the service by collecting opinion and feedback. We ask that teachers who have applied for the service complete and return a simple questionnaire after each class observation. Teachers who have applied for classroom observation can provide their thoughts and feedback for the entire semester by the "Classroom Observation Feedback Form" (PDF download link).
Interviews with Teachers Applying for Classroom Observation Service
The Center interviewed teachers who applied for Classroom Observation Services in 2019. The teachers were invited to talk about their motivation for applying, and their reflection after the observation. The content they shared were rich and practical, and everyone could feel the benefits that the classroom observations had brought to the teachers~
Production|NTU CTLD
Executive Producer|Mr. Rui-Bin Hsieh, Department of Bio-industry Communication and Development
Project Planner|Ms. I-Fan Chang, CTLD
Special Thanks|
Dr. Po-Ju Chang, Department of Horticulture and Landscape Architecture
Dr. Shi-Wei Chu, Department of Physics
● 

Contact Person: I-Fan Chang


● 

TEL : 3366-3367#512


● 

E-mail : ifan@ntu.edu.tw
Reference and Source of Pictures:
some pictures are from the website ac-illust.com/tw, www.lanrentuku.com

Service Introduction:article about teaching observation and handbook published by the National Federation of Teachers Unions

Form Design:documents from National Taiwan Normal University and handbooks published by the Ministry of Education and the National Federation of Teachers Unions

Photo of the Cover:photo shot by Ms. Yi-Rong Chen
"The way teachers teach now is very different from when I was a student at National Taiwan University ten years ago. Whether it is the interaction between teachers and students, the visual aids of teaching materials or the classroom atmosphere, they are all advancing along with the way college students absorb knowledge and the development of multimedia technology. The classroom observation arranged by CTLD has not only allowed me to see more teaching skills. Through the observation, I was also able to interact more with teachers from different departments." (Feedback from teacher in the 2020 Fall Semester)
"I want to thank CTLD for the arrangement so that while teaching at NTU, I can also continue to learn from senior teachers. Every day, I feel that I am becoming a better teacher than I was yesterday, and I feel quite a sense of achievement." (Feedback from teacher in the 2020 Spring Semester)