Innovation – Specialization Program
Specialization Program is the focus of NTU's recent curriculum reform. Each program consists of four to five courses, totaling 12 to 15 credits. Compared with a list-based course selection model, the Specialization Program emphasizes a clear curriculum framework that each course in the program is connected to each other. In this way, the program provides a clearer guidance for students to explore specific professional fields or engage in interdisciplinary studies, and enables them to build up more solid and diversified "academic competence" as foundation for their career development or graduate study.
NTU Specialization Program has three major goals. First of all, the curricula of departments are restructured and compared internationally to improve the quality of curriculum and reflect the spirit of in-depth learning. Secondly, after departments have established their specialization programs, they can open up their programs to students from other colleges and departments to promote interdisciplinary learning, break the barriers between colleges and departments, and foster the integration of campus teaching resources. Thirdly, the Specialization Program can become the cornerstone of bachelor's programs. In the future, students can flexibly take courses of the specialization programs according to their personal ambitions, thus fulfilling NTU's goal of cultivating interdisciplinary and innovative talents.
Related Services
Specialization Program Call for Proposals has already begun since the 2020. The fifth round of call for proposals is open until April 7, 2023. Key items in the process are as follows: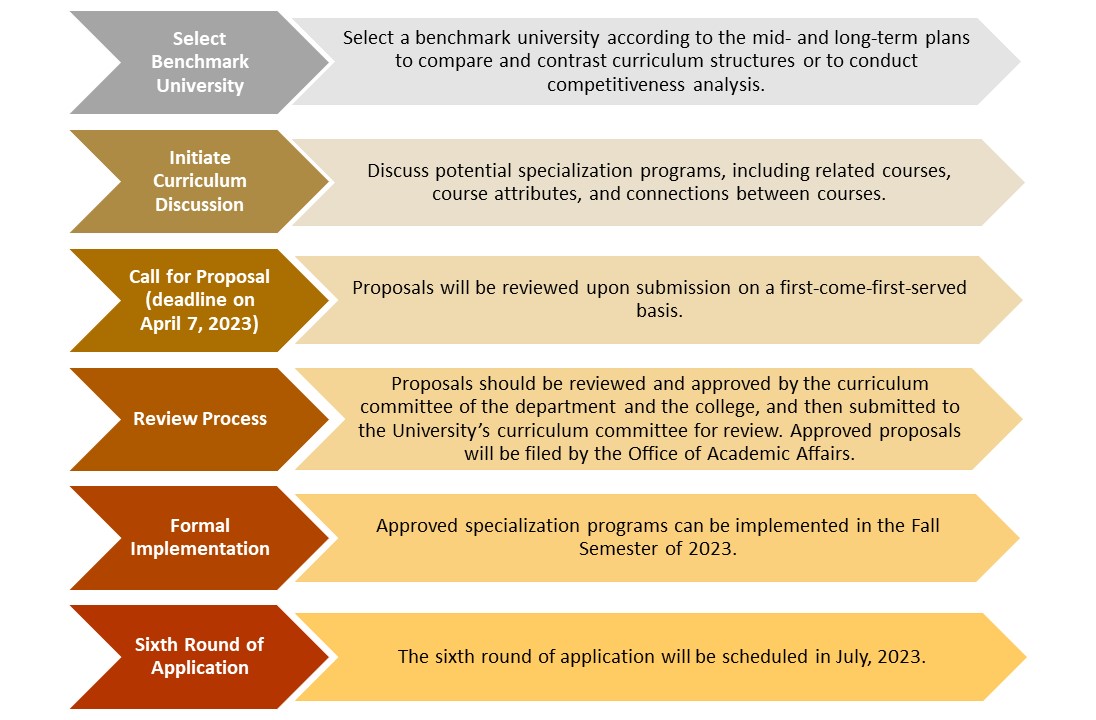 In order to promote the Specialization Program, CTLD has created a video to explain the concept of curriculum reform. Professor Li-yu D Liu, Director of the Department of Agronomy, was invited to share the department's experience. The video has been released on the NTU YouTube EDU channel for departments to use as a reference in their curriculum planning.